Sandgrounder Spotlight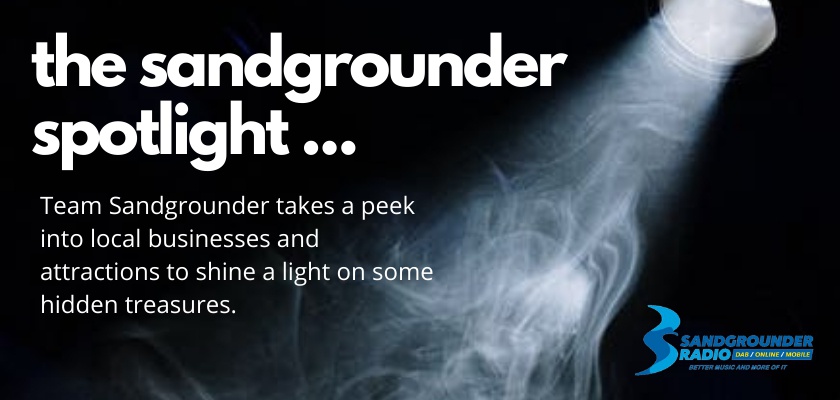 Jacqui Lewis went to shine the spotlight on Rueters Bar & Grill on Hoghton Street in Southport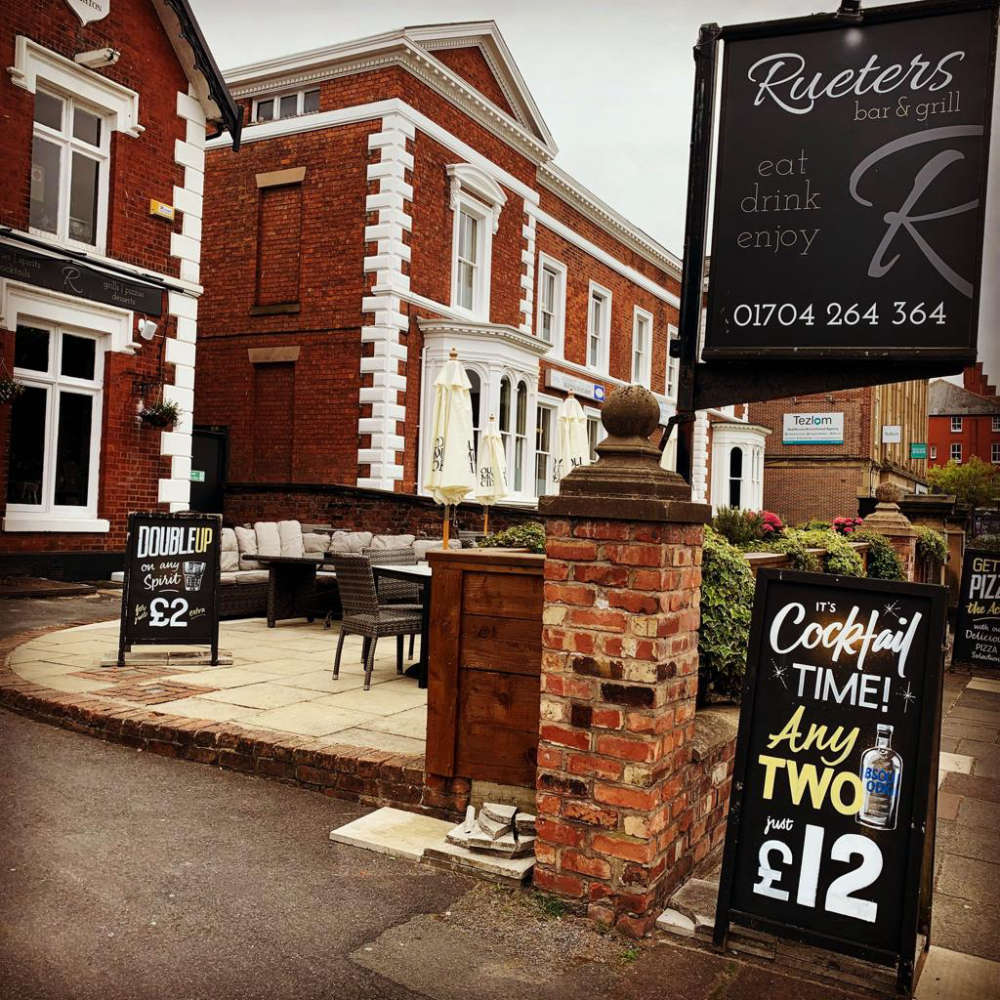 I had the pleasure of a lovely evening at Rueters Bar and Grill with my husband Michael over the weekend. Beautifully renovated and spotlessly clean throughout, it was a very welcoming atmosphere.
The staff, headed by Matt, were friendly and attentive and extremely knowledgeable about the choices of drinks available at the well stocked bar. Matt has sourced locally made gins and vodka and has visited the establishments to understand how they are made using local organic ingredients and even honey from their own bees in both Lancashire and Macclesfield.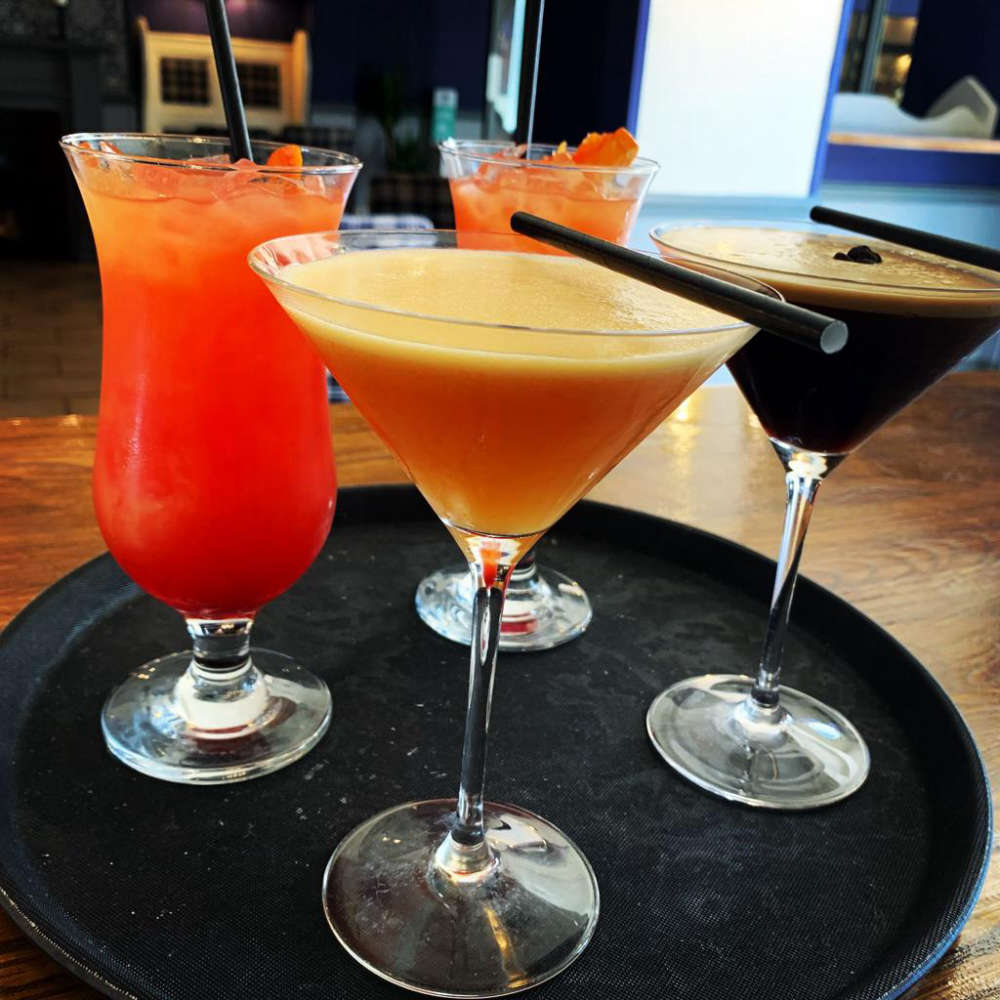 I loved the extensive cocktail menu which is being added to as more choices prove popular.
A large choice of dishes was on offer for the beautifully cooked meal at very reasonable prices. The portion sizes were very generous so we shared one of the grazing dishes as a starter choosing the honey glazed chorizo with toasted ciabatta, this was absolutely delicious and was plenty for both of us.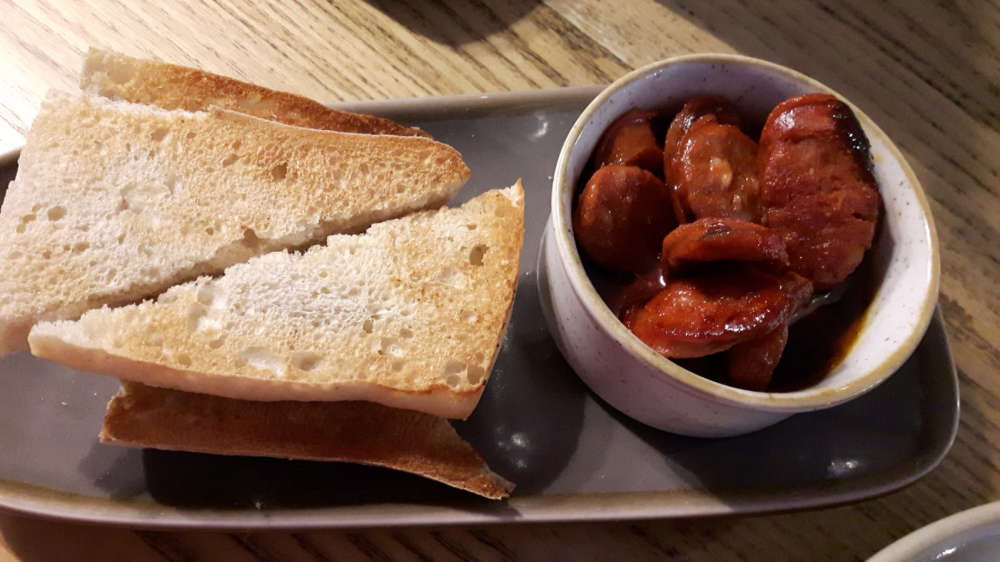 I love that you can choose a selection of grazers and have different flavours instead of a main course or even to share before a main, I will definitely be trying this option out next time!
This was followed by the fish, chips and mushy peas for myself, served with an incredible homemade tartare sauce. A very large, extremely tasty dish with chunky , skin on ,salted chips and wafer thin batter, I was very impressed. Michael was delighted with his choice of fresh sea bass which was flaky and flavourful, served with buttered new potatoes and a selection of seasonal vegetables, all cooked to perfection.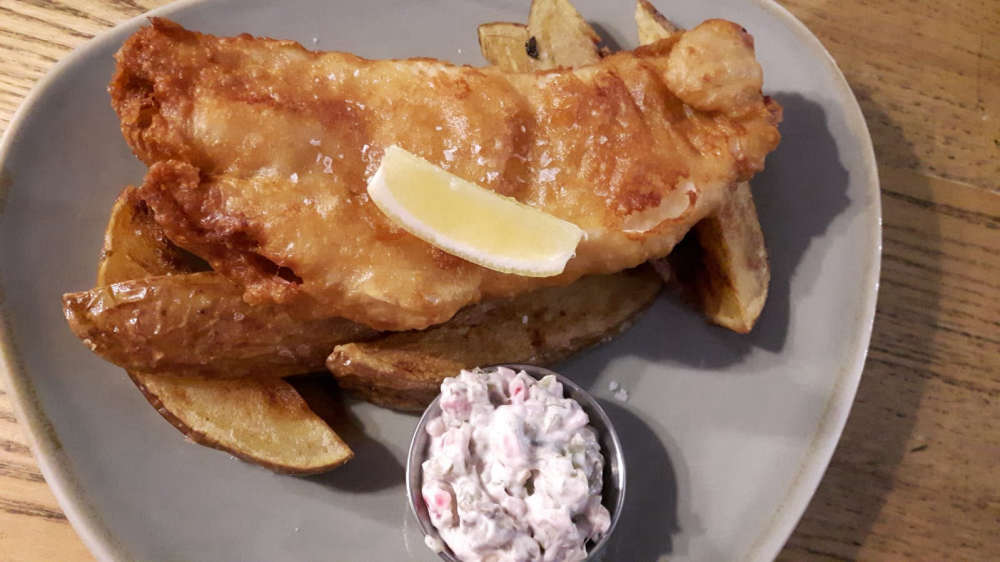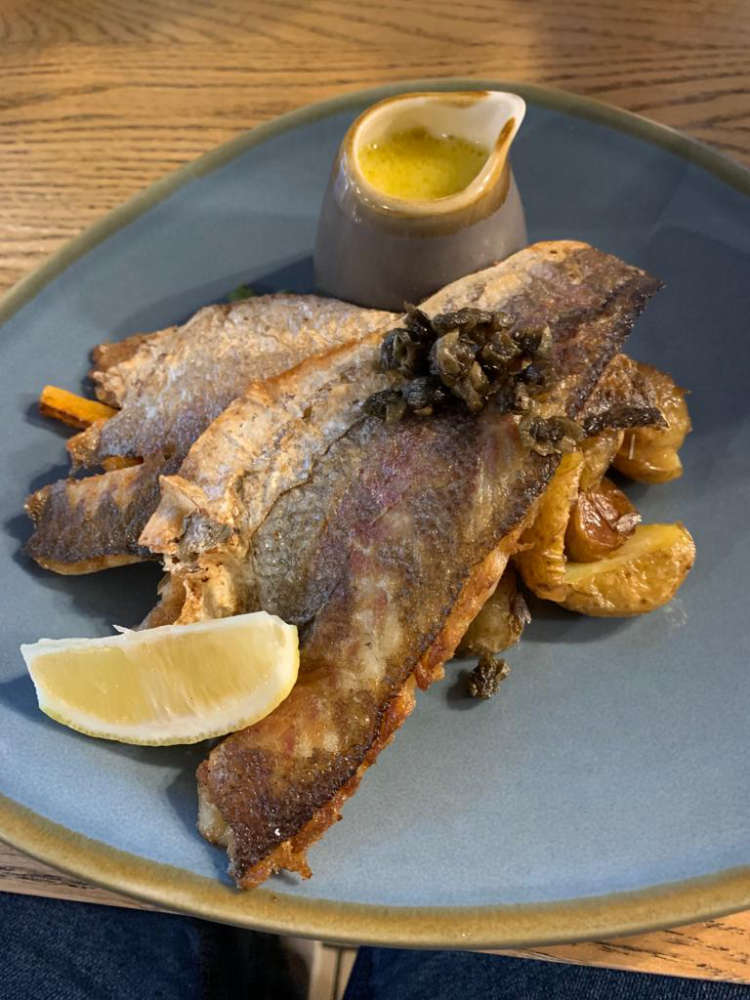 We finished a fabulous meal with the special dessert of a homemade ruby chocolate cheesecake with a Biscoff biscuit base and a drizzle of white chocolate on the top, served with fresh strawberries and Mackies vanilla ice-cream.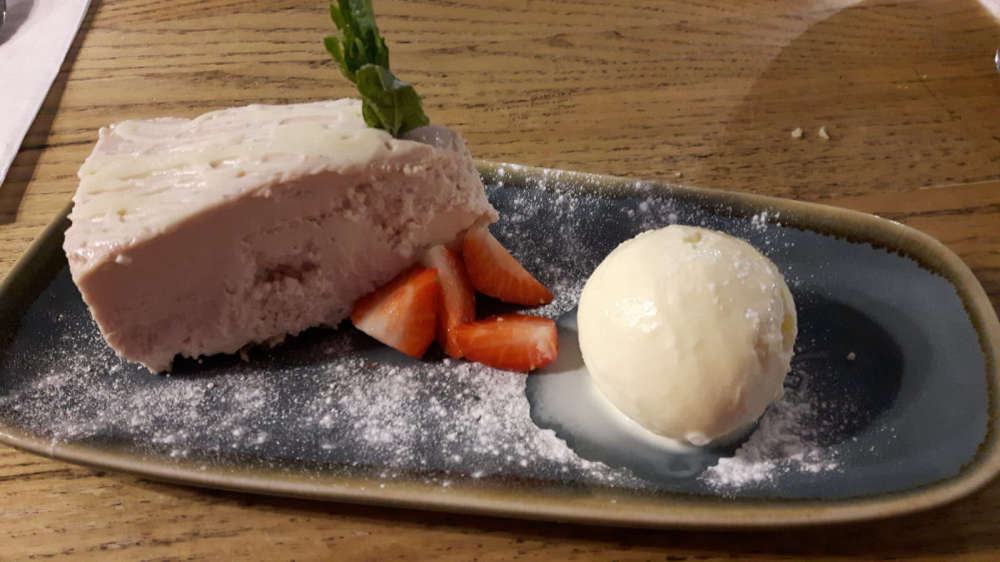 The introduction of Sunday roasts last month has been a very popular addition to the menu, with regular choices of roast beef, butterfly chicken and nut roast and specials of pork belly (Michael's favourite, so he was very interested!) and lamb shanks.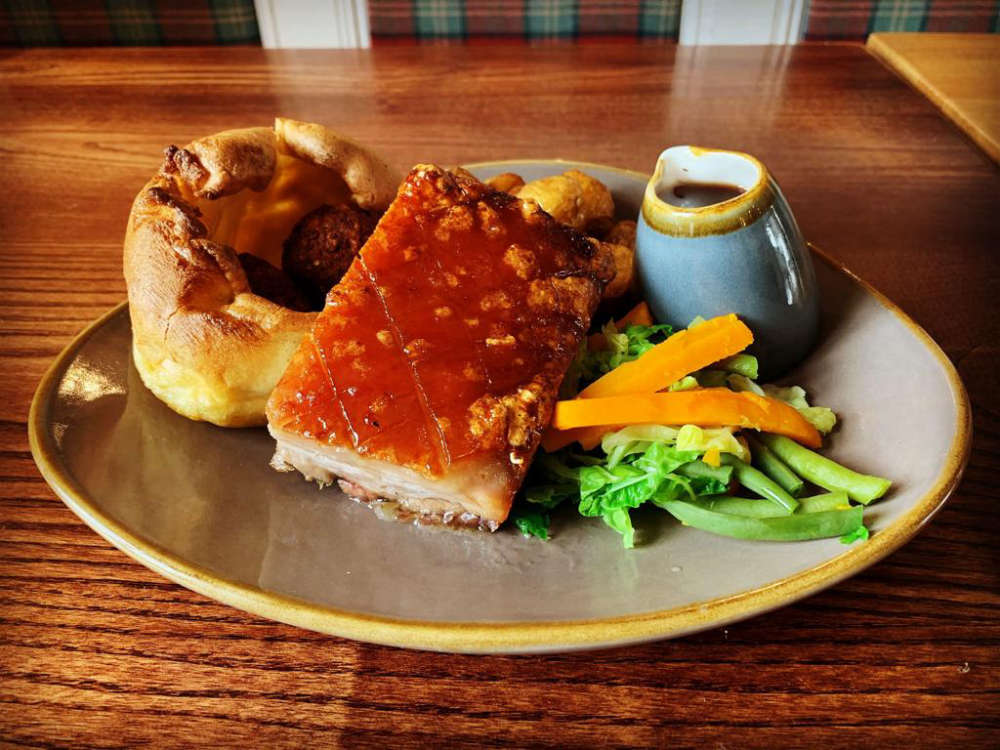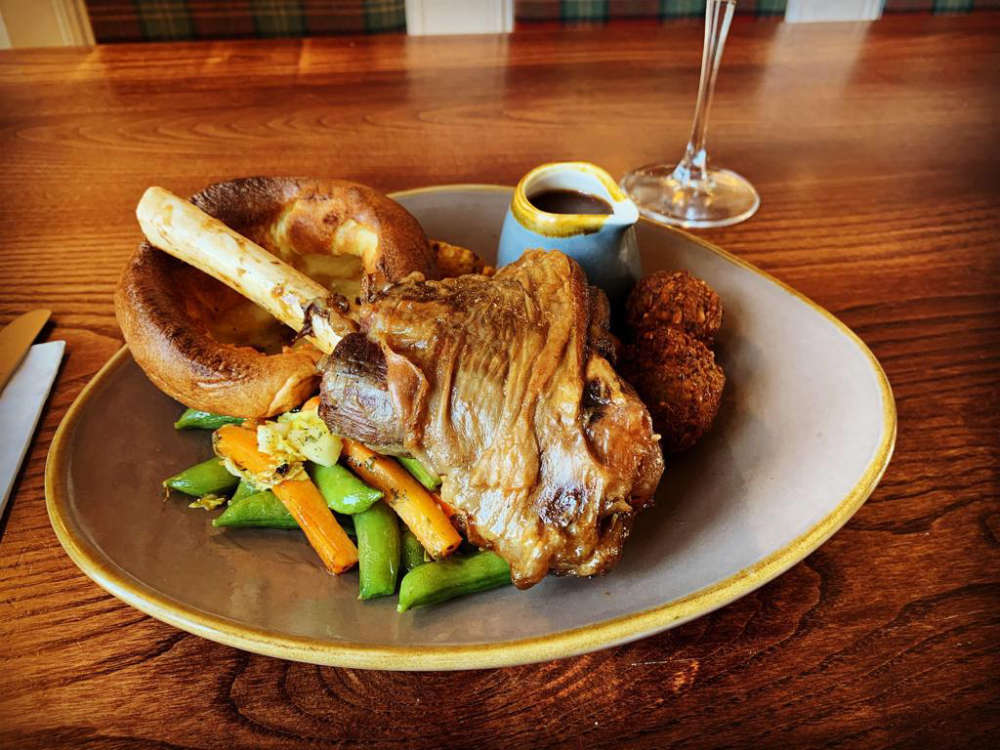 Also proving extremely popular is the Sunday night Karaoke session. Karaoke starts at 8.30pm each Sunday with every singer getting a free shot per song. A fantastic atmosphere and great entertainment included, this is definitely the place to be.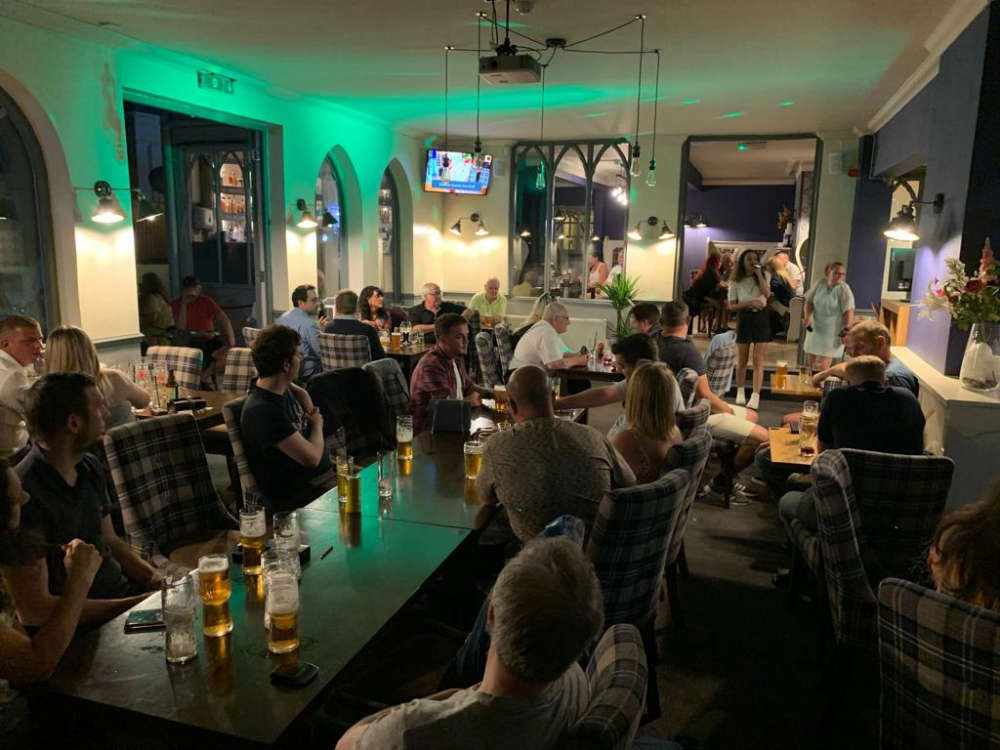 Other events planned in the near future are some Love Us and Tribute nights. You can keep an eye out on the Rueters facebook page for details. You can also book for private functions including weddings and birthday parties.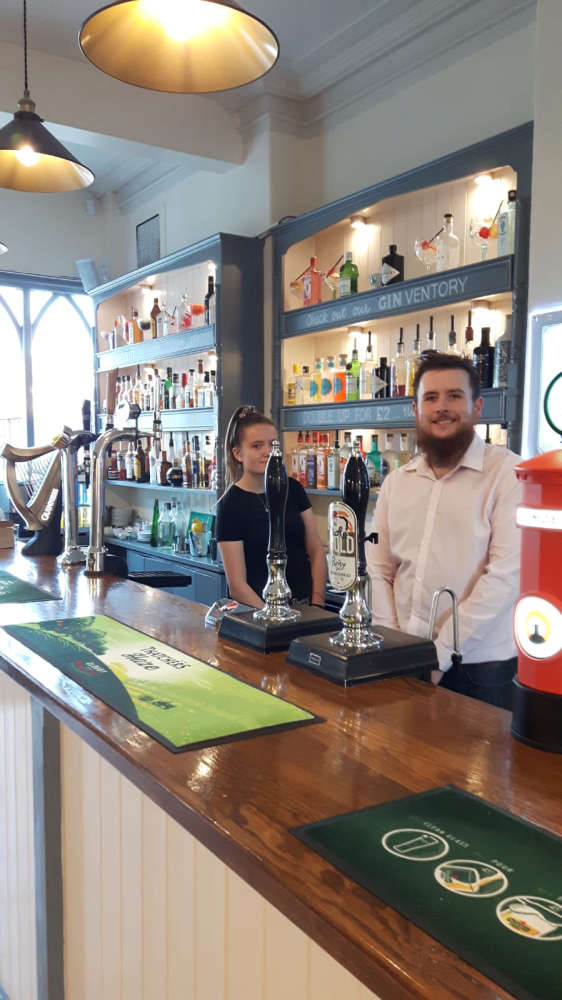 A spacious patio area at both front and rear of the building provides a great place to sit and chill in the sun and relax with a cocktail or a pint. There's comfortable seating and even two large sofas available outside, and facilities to take your dog, with a special table set up inside the bar with fresh water, a number of dog bowls and even some biscuit treats for your canine companion. Definitely a place to soak up the sun (When the heatwave finally arrives) and enjoy the fresh air.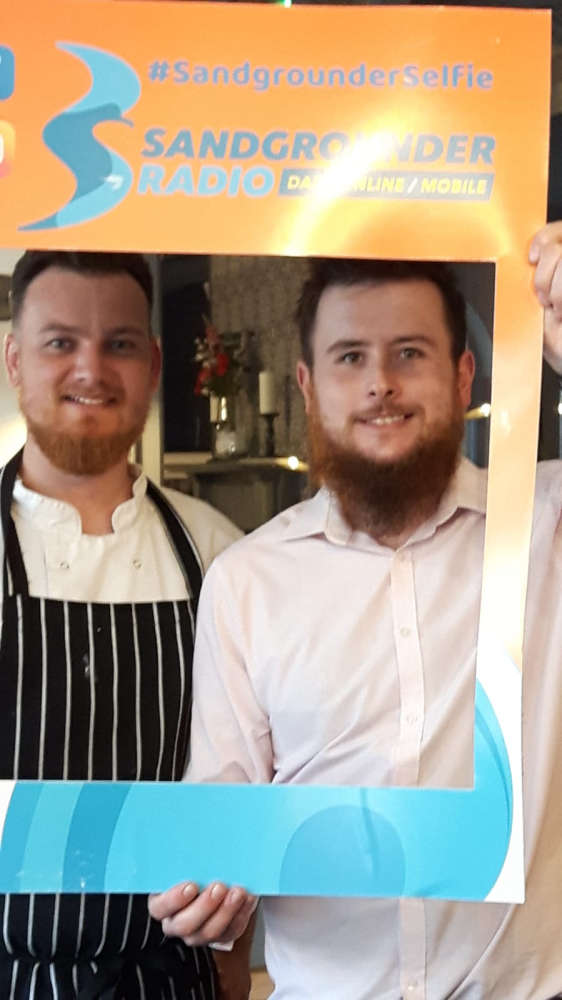 So if you are looking for a great venue, with friendly, attentive, knowledgeable staff and a fabulous menu with beautifully cooked food as well as a wide variety of spirits, beers and cocktails then Rueters is the place for you. Pop down for a go on the karaoke and I might just see you there. Congratulations to Matt and his team for a lovely evening.
__________________________________________________________________
Jacqui Lewis went to shine the spotlight on Grill Hunters, based on Southport's Lord Street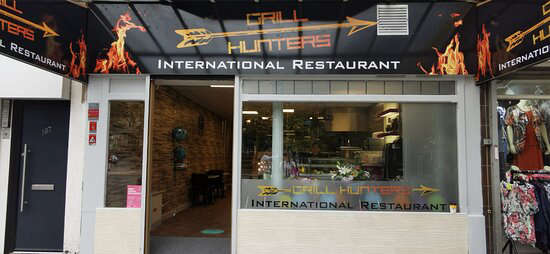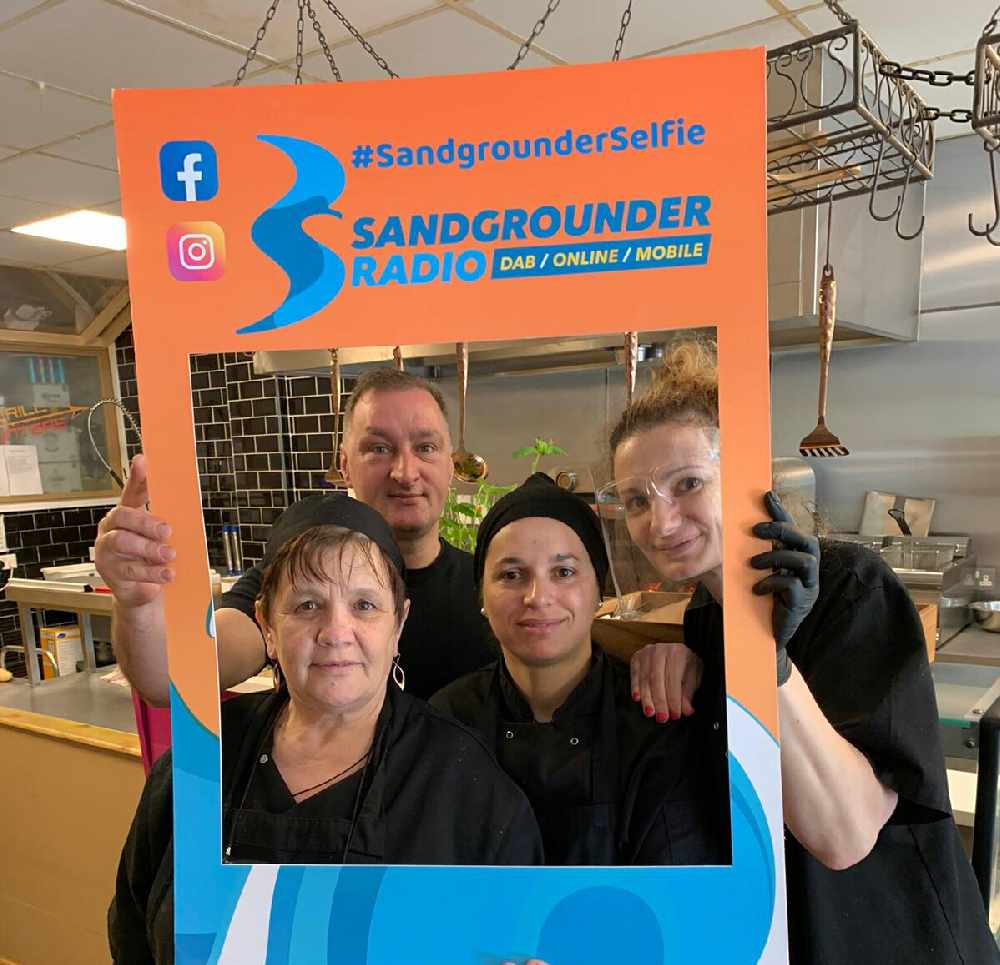 Myself and my Husband Michael were lucky enough to go and sample the amazing food at The Grill Hunters on Lord Street Southport. We were met by the lovely owner Emily who was exceptionally knowledge about the food and explained about some of the traditional Romanian fare on the menu.
There is a wide variety of dishes on the breakfast/lunch menu, which we sampled and an even larger evening menu with some very intriguing speciality dishes along side more usual British style offerings.
Emily worked closely with a variety of chefs from different nationalities to ensure something for all tastes.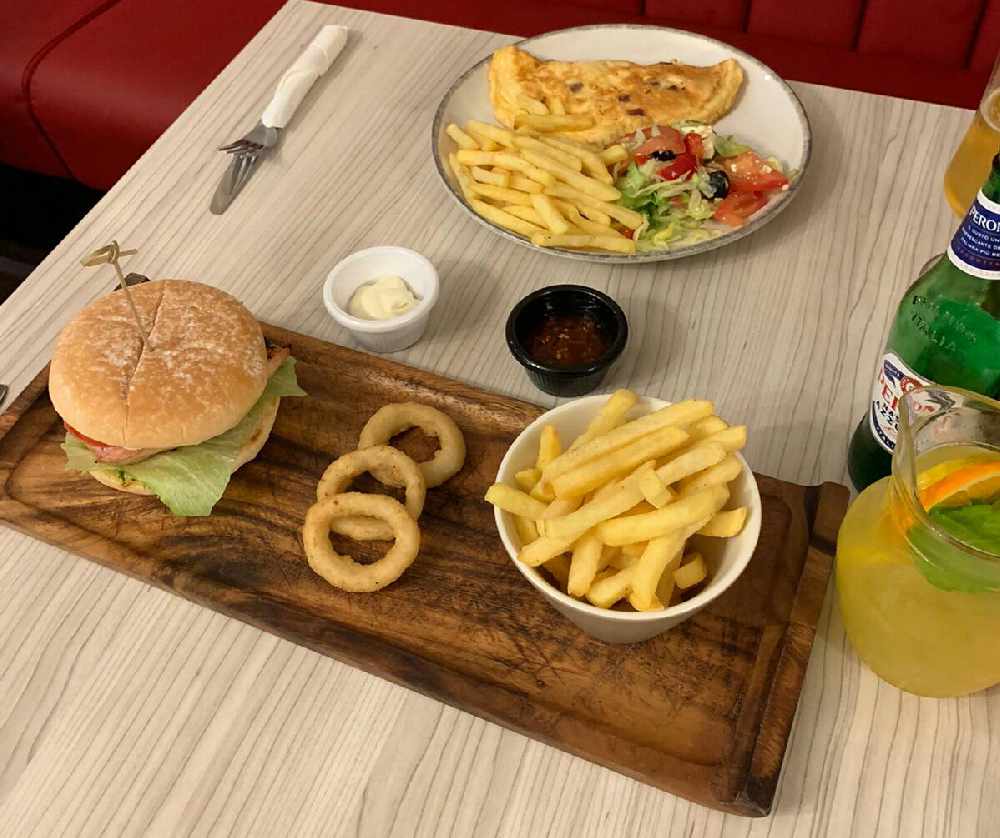 We chose from the lunch menu, Michael had the omelette with cheese and traditional Romanian sausage, which was accompanied with fries and a beautiful salad, all of which was extremely well cooked and very fresh. I had the grilled chicken burger with onion rings, fries, mayonnaise and sweet chilli sauce.
All the meat served in the restaurant is freshly prepared and cooked on the grill in an open kitchen , with fresh herbs decorating the kitchen for a very pretty and practical effect.
The chicken was very juicy and perfectly cooked, the fries have a dusting of a very flavourful seasoning and the accompaniments were delicious ( I only got one onion ring as Michael wolfed the other two down! ).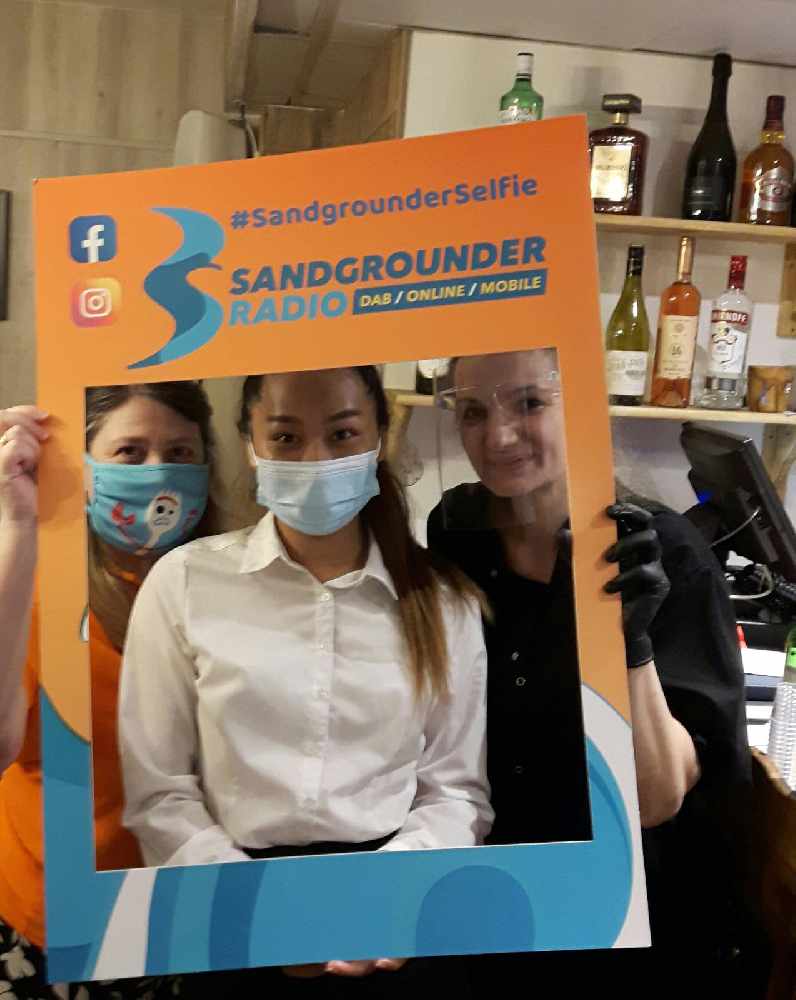 All the staff were friendly and courteous and they even sent over a special portion of the traditional Romanian sausages for us to try after an interesting conversation about their traditional dishes.
There was a wide variety of alcoholic and non alcohol drinks too. I chose their freshly made lemonade which arrived in its own jug with honey to sweeten which was very refreshing on such a warm day. I did need the honey as it was very tart , perhaps not for a sweet tooth, but there was the usual lemonade on the menu as well and I did enjoy it.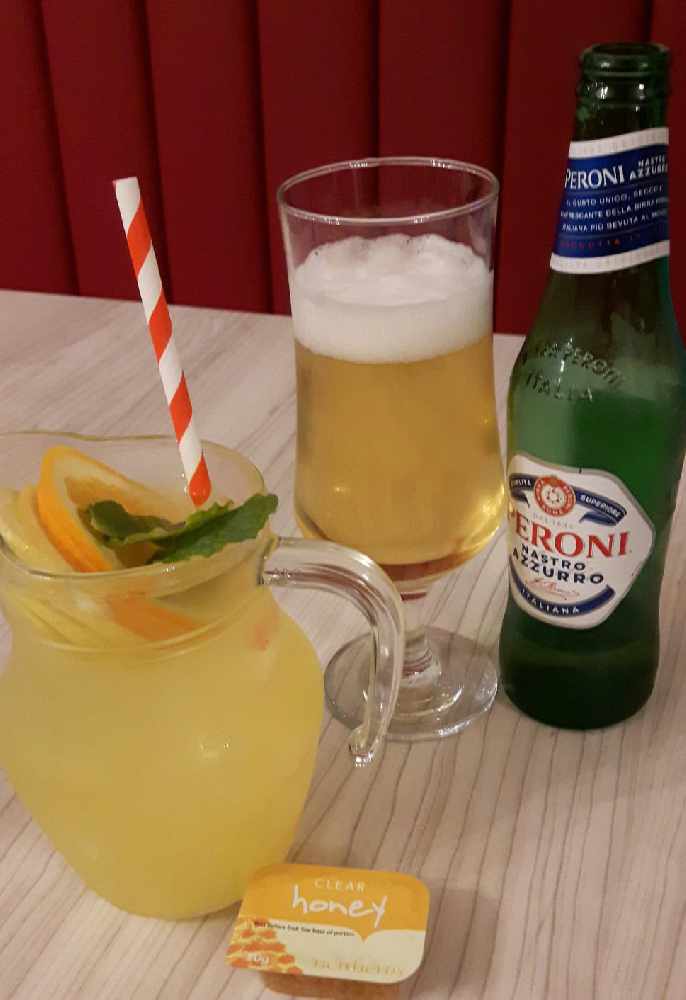 Over all we had a lovely meal and a great experience.
If you haven't been yet then make a reservation or just pop in, there is something for everyone, beautifully cooked and presented, they have just received 5 stars for cleanliness and I can certainly see why!
We will be returning to sample the evening menu - Michael has his eye on the pork belly . A big thank you to Emily and all her staff for a great lunch.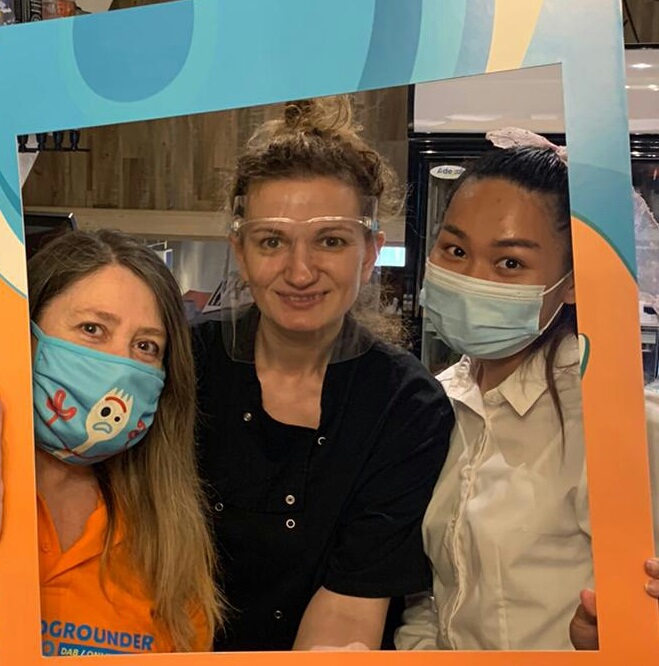 __________________________________________________________________